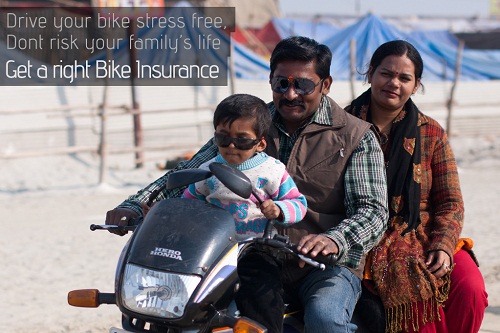 Buying two wheeler insurance plan in India is important for all two-wheeler owners. It is also compulsory by law to buy this insurance plan. It is designed to ensure security for the vehicle and owner. You can expect security against a huge number of problems such as natural and man-made calamities.
If you own a two wheeler, it is one of the valuable assets and investment. Buying a two wheeler insurance policy will help you protect you and your vehicle from the adverse effects of damages incurred due to certain unforeseen incidents such as theft, personal accident, third party liability and many more. Investing in this insurance policy will ensure adept safety for your bike.
Buying a Bike Insurance Plan
It is a serious decision as any blunder can result in complications later on. Hence, you need to be careful about what to buy. It is always wise to take into account some crucial points before making a decision.
The Need
You should be fully aware of the reasons behind the investment. Why do you actually wish to spend money on the insurance and what returns do you expect from the investment? Understanding these points can help you decide on the best plan.
Vehicle Type
This is one of the most important considerations to make. You need to buy an insurance plan that is best suited for the type, make, and model of your vehicle. This is also important before you actually get an approval from insurance company. This may influence amount of premium charged by the company.
Understanding Bike Insurance Cover
The bike insurance plan will cover you against any loss or damage done to your vehicle against natural calamities.
These include:
Fire
Explosion
Self-ignition
Lightning
Earthquake
Flood
Typhoon
Hurricane
Storm
Tempest
Inundation
Cyclone
Hailstorm
Frost
Landslide
Rockslide



Man Made Calamities




The bike insurance plan will also cover you against any loss or damage to the bike due to man-made calamities including the following listed below: Burglary Theft Riot Strike Malicious act Accident by external means Terrorist activity The plan will also cover you against damage done to your vehicle in transit. The cover is applicable for transport by rail, road, lift, inland waterway, elevator or air.

Personal Accident Facility

This is one of the most important covers you must consider as a bike owner. The bike insurance company will offer cover of about 1 Lakh INR under this plan. Here, the individual owner and driver of the vehicle will be covered when driving. He/she will also be covered against loss or damage (injury) while travelling, mounting or dismounting from the vehicle. For an additional price, you can also get cover for co-passengers.

Third Party Facility

This is important and categorised as an obligatory cover by the government of India. Party legal liability protection. Cover is offered against legal liability that occurs in the event of an accident resulting in the permanent injury or death of a third party. The plan will also cover damage caused to the adjacent property.

The Advantages of Buying Two Wheeler Insurance Online A digitally signed policy will be issued to the buyer instantly through the insurance company's online facility. The buyer can enjoy access to over 2900+ network garages for cashless claims servicing around the country. Personal Accident cover for co-passengers (optional) No travel hassles. The insurance plan can be bought from the comfort of home. The buyer can easily avail NCB on renewals in case; no claim is made during the previous policy period. It is easy to transfer all No Claim Bonus (NCB) benefits when shifting your car insurance plan to the insurance company. Customers can enjoy 5% discount for recognised Automobile Associations Members. All vehicles installed ARAI approved anti theft device will be offered 2.5 per cent discount by the company. Buyers can avail add-on covers for all electrical and non-electrical items. The transaction is easy and less time consuming online. It is easy to renew two wheeler insurance policy and making claims online. Understanding Sum Insured for Two wheeler vehicles are insured at a fixed value referred to as the Insured's Declared Value (IDV). The IDV for two wheeler insurance is calculated on the basis of the manufacturer's listed selling price of the vehicle. The listed price of accessories is also added to it. The final IDV is calculated after deducting the depreciation for each year according to the schedule offered by the Indian Motor Tariff. In case, the price of an electrical and / or electronic item installed in the vehicle is not included in the listed selling price of manufacturer, then the actual value (after depreciation) of this item can be added to the sum insured over and above the IDV. The Two Wheeler Renewal Policy Online


It is possible to renew two wheeler policy online. The renewal period starts 60 days prior to the expiry of existing policy. In the event where the two wheeler insurance has already expired, it is important to call the company's authorised surveyor for vehicle inspection. This needs to be done prior to the issuance of policy. The insurance policy would only be issued subject to an agreeable examination and compliance or necessary documents.




Factors affecting premium payable for your two wheeler insurance plan:

The precise cubic capacity of the engine

Vehicle age

Geographical zone

Type of Model

IDV (Insured declared Value)