India is one of the top 3 countries when it comes to the number of students travelling abroad for studies, says a report by OECD (The Organisation for Economic Co-operation and Development). In spite of such statistics, surveys show that a meager of 5-6% Indian students make a choice to be fully secured abroad by availing health insurance from India.
Here are some tips that will guide guardians and students through the four W's (Why, Where, Who, What) of health insurance before going abroad.
Tips: Why Should You Avail Health Insurance?

1. Mitigate Risk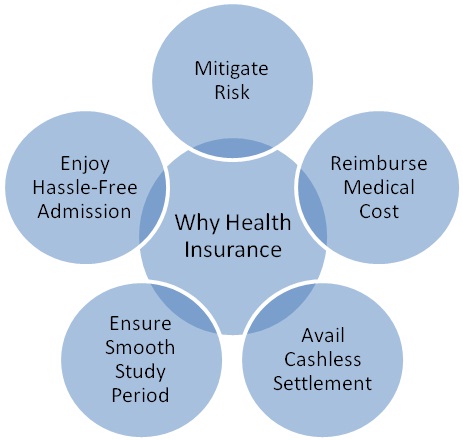 Protect and safeguard your study period abroad from unforeseen health-related risks.
2. Reimburse Medical Cost
You can reimburse the cost of medical treatment incurred overseas under health insurance plans easily.
3. Avail Cashless Settlement
Avail a health cover that offers cashless settlement in case of hospitalization. Look for insurance companies that give easy access to their TPA (Third Party Administrator) through dedicated country specific helpline numbers for registering a claim.
4. Ensure Smooth Study Period
Health insurance take care of a range of contingencies that a student can face, thereby supporting an unhindered study period.
5. Enjoy Hassle-Free Admission Procedure
Universities of developed countries advocate strongly for student health insurance policies, and offer a waiver to international students who are adequately covered. They insist on a comprehensive health cover to include costs arising out of mental and nervous disorders, pregnancy, inter-collegiate sports injuries, cancer screening, mammography examination, and childcare. Lack of awareness may lead to delayed or declined admissions.
Tips: What Should Student Health Insurance Cover?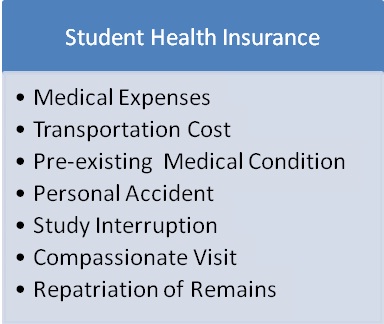 1. Medical Expenses
Health insurance should typically provide for expenses if a student falls ill. Out-patient/in-patient charges, prescribed treatment or medical aid, and suggested diagnostic tests should be included. The costs incurred for dental treatment should also form a key component.
2. Cost of Transportation
Cost of transportation to hospital or the nearest physician, cost of medical care during transportation and the cost of transporting the student to India for prescribed treatment should be covered.
3. Relief for Pre-Existing Medical Condition
In case of pre-existing diseases, select plans offering compensation to the student for life-saving measures taken to relieve acute pain.
4. Personal Accident
Look for compensation on account of personal accidents, specific to the loss or disability of the function of a limb or organ.
5. Study Interruption
Financial loss on the discontinuance of studies due to hospitalization for more than a month or due to death in the family is covered by an ideal health plan. In such cases, the remaining part of the tuition fees of the current semester should also be reimbursed.
6. Compassionate Visit
Insurance should provide for the cost of tickets and accommodation expense during a relative's trip from India to visit a hospitalized student and vice-versa, i.e., the student's visit to India to meet ailing parents.
7. Repatriation of Remains
In case of death, insurance should cover the cost of transportation of remains or amount to ensure local burial or cremation in the foreign country.
Tips: Where Should You avail health insurance?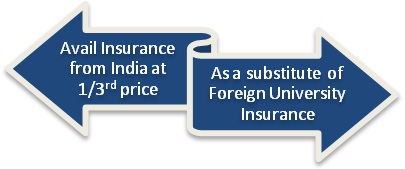 Availing a health insurance plan in India is the best option, as the premium here is around one-third of the cost of overseas insurance premiums.
Tips: Who Meets Your Requirements?
Choose an insurance provider with good reputation, established track record, and strong tie-ups with foreign health care providers. Ensure that the plan you select adheres to international insurance standard, and is acceptable as a substitute for the university's insurance.
Though universities of UK do not accept insurance policies other than their own state-prescribed NHS (National Health Service), it is suggested to avail health covers from India with better coverage and benefits.
Disclaimer: Insurance Awareness initiative. ICICI Lombard General Insurance Company Limited, ICICI Lombard House, 414, Veer Savarkar Marg, Prabhadevi, Mumbai - 400025. IRDA Reg. No. 115. Toll Free 1800 2666 Fax no - 022 61961323. www.icicilombard.com For any queries or assistance you can Email us at customersupport@icicilombard.com Corporate Identity Number (U67200MH2000PLC129408). UIN : EC014AA1686IA