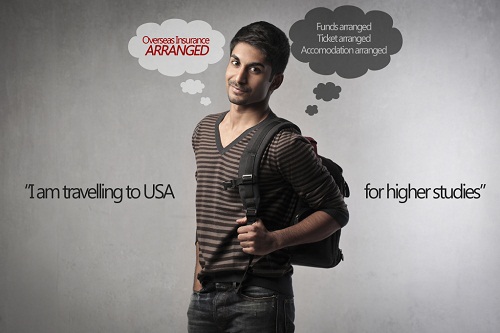 Foreign education has become a source of excitement and joy for all. It can be compared to an exciting horizon that broadens a student's experience. The final result is a promising career opportunity in one's home country or a foreign country. Apart from extracting the best of academics, students also get opportunities to explore the surroundings whenever they get time. All in all, it is a lifetime opportunity for individuals.
However, just as any other tour, a student tour to foreign countries is not without risk. Accidents, loss of cash, thefts, sickness, natural calamities, terrorism, and other similar unforeseen events are not within human control. Hence, it is crucial to get a back-up plan ready always.
Sometimes, students studying abroad may face the risk of sudden sickness or loss of sponsorship. This may be a shattering experience. It is not easy for the individual to cope with challenges all alone.
A student insurance plan can be of great help under these circumstances. These plans are designed in a fashion to help students secure their studies overseas. A typical student insurance plan will make sure that a student is not left alone during an emergency. The plan offers a huge number of benefits to the buyer including medical coverage and bail bond in order to protect you when arrested or detained by law authorities. This is valid for all bailable offences while studying abroad. Getting overseas medical insurance plans mean one can have a highly successful overseas education tour.
For students, studying abroad can be explained as a mind broadening experience. It is highly beneficial for students who have joined to gain expertise in their subject of interest. Students enrolled in overseas universities have opportunities to meet a huge number of students from across the globe. This is a wonderful way to expose the individual to help people know in detail about diverse cuisines, cultures, lifestyles and languages. One can explore these marvellous things all through the study period overseas.
All universities in foreign countries are concerned about the security of students coming from various parts of the world. This is also the reason overseas universities recommend student insurance for international students.
Indian students pursuing their education overseas can opt from some of the most exciting overseas medical insurance designed by insurance companies in India. These plans are affordable, hassle free and designed in a fashion offer 100 per cent security to Indian students studying in foreign countries. Students can evaluate an insurance plan by visiting the official website of a company before investing in a specific plan.
In India, a standard student insurance plan will cover the policy holder for various eventualities including protection for sponsor, hospitalization, bail bond, emergency evacuation, and many more. These facilities are offered during their tenure as a student in any of the foreign universities preferred by the student.
Since the overall premium cost of an overseas medical insurance is merely a nominal charge, it is wise to compare the total sum assured. This will help you spend student days peacefully in an alien land. Living in a foreign country away from parents is not easy. There are many things to take care of including expenses, new challenges to face and certain emergencies that may come your way. Having an overseas medical insurance handy will help you rest assured about these emergency situations and focus on studies.

Benefits Buying Student Insurance in India
You can buy the policy in Indian rupees. This means you are paying only 1/3 the cost of buying similar insurance in a foreign country.
Indian insurance plans are accepted by most of the foreign universities as a substitute for their compulsory insurance plan.
Reputed Indian insurance companies have collaborated with leading US-based Health Care provider UnitedHealth International. This helps them provide better health care benefits. They can avail best of health care services when in the U.S.
The student travel insurance is available with a continuous cover for about 2 years and is can be auto-renewed. This means that the plan will cover your entire period of study and help you keep away from the usual policy extension hassles.
These plans are easily available with second year (auto-renewal) extension option. This indicates that the plan will cover you for entire period of study.
You can easily extend your student insurance plan in advance.
Medical outpatient expenses are covered.
No pre-medical check-up required.
You can buy the policy online and pay in instalments.
The plan will cover you for study interruption and provision for a two-way compassionate visit for parents.

Documents Required for Student Insurance Claim This depends on the type of student insurance cover you wish to make the claim for:

Student Overseas Health Cover Claim
Original statement by the health practitioner mentioning the ailment and treatment recommended.
Original hospital bills
Original receipts for the final amount settled
Clear indication of hospital bill final settlement

Delay of Checked-in Baggage Cover Claim
Original receipts for emergency purchases made. The bills should indicate that the purchases have been made during the period when the baggage was delayed.
Original letter from airline stating the date when the baggage was returned back to the insured.
The statement mentioning any compensation paid for claim settlement for baggage delay.
Checked-in Baggage Loss Cover Claim
Irregularity Report for Property issued by the airlines.
A letter from airline confirming that the baggage has been lost permanently.
A letter mentioning any compensation paid towards claim settlement.
A letter mentioning description of items lost in conjunction with relevant bills.
The bills for description of items should exceed USD $100.
Loss of Passport Cover Claim
Receipts for acquiring duplicate passport and travel documents.
Copy of new passport.
Copy for previous passport (if available).
Return tickets copy.
Certificate issued by embassy of India. Stamps.
Cost of a professional account or solicitor.
The costs should be calculated via excluding transportation involved in getting duplicate passport.