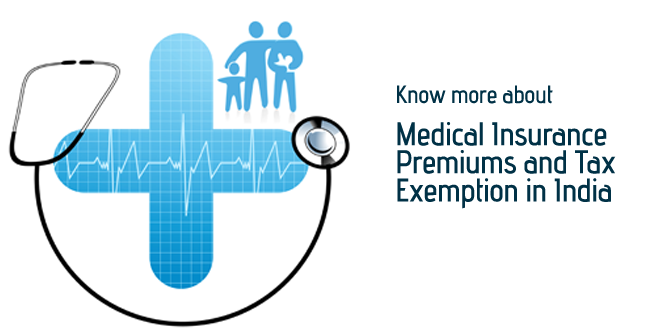 Health insurance is one of the most popular plans sold in India. With health being one of the major concerns across the nation and endorsements by insurance companies doing rounds, people have realized the importance of getting insured.
Most people buy a health insurance plan to ensure prompt financial help in the times of emergencies. Rising medical costs is also a major concern. The plan offers cover against the hospitalization bills, medications, ambulance charges, cashless facilities and a lot more. Another major benefit offered by health insurance companies is tax exemption on premium paid.
In India,medical insurance premiums are subject to income tax exemption under section 80D. This is applicable on health insurance premium paid for personal, spouse, children and dependents parents. The exemption is recorded under the Income Tax Act of India.
Health insurance, also popularly referred to as mediclaim policies in India, offers a deduction of about 35,000.00 INR to buyers.

Here is how deductions are offered to health insurance buyers in India:
An amount of 15,000.00 INR is paid towards health insurance premium for personal, children, and spouse.
An amount of 15,000.00 INR is paid towards health insurance premium for dependant parents (non-senior).
An amount of 20,000.00 INR is paid medical insurance premiums for dependant parents (senior citizen).

The deduction mentioned in the above list is other than the 1, 00,000 INR savings offered under Income Tax deductions clause (80C).
The Rules
In order to consider deduction under the category of 'senior citizen', the age of the individual should be 65 years for the duration of the fiscal year. For instance, if the deduction is to be offered for the financial year 2010-11, the individual should already be 65 years of age as on March 31, 2010.
Some Changes
The Senior Citizen Definition - In the year 2012, the government of India gas changed the definition of senior citizen. An individual would be considered fit into the category of 'senior citizen' if he is 60 years old. The individual should already be 60 years of age during the fiscal year 2012-2013.

Validity of Deduction - The deduction on insurance premium is also applicable to the payments made by:
Credit Cards
Cheque
For cash payments, the insured will not get any premium deductions.

Understanding Medical Insurance Premium
The maximum amount of deduction offered under Income Tax section 80D for Self and Family amount to 15000 INR.
For your parents, the deduction proposed is 15000 INR.
If the individual covered has attained 60 years of age or more, then the individual can avail of an additional deduction of about 5000 INR.

For Salaried Individuals
Salaried individuals can enjoy the benefit of medical allowance as well as the medical insurance policy under section 80D at same time. The medical allowance is allowed under section 10.
Understanding the Section 80D under the Income Tax Act 1961
As already discussed, there are many benefits one can enjoy via buying a health insurance plan. Apart from the apparent benefits such as a health cover, cashless health benefits, critical illness benefit, cover for medications and hospitalization bills, and additional covers, the medical insurance will also offer you tax benefits as per the Income tax Act 1961 stated under Section 80D. Here, you are entitled to avail an amount between 15,000 INR and 20,000 INR for senior citizens.
The Income tax Act 1961 Rule (Section 80D) for medical insurance premium deduction:
1. When evaluating the total income of an insurance buyer, (an individual or a Hindu undivided family), deduction is applicable as mentioned in sub-section (2) or sub-section (3). The payment of deduction can be made by any of the following excluding cash in the previous year from taxable income:
Credit card
Cheque
Debit card
2. If an insurance buyer is an individual, the sum mentioned in sub-section (1) shall be the total of the subsequent, i.e.:
The entire amount waged to effect or ensure operational, medical insurance on the individual, his family or a payment made to the health scheme proposed by the Central Government not exceeding 15,000 INR
The entire amount waged to effect or ensures operational, medical insurance on the parent (s) health not exceeding the total amount 15,000 INR.

3. For the insurance buyer from Hindu undivided family, the sum mentioned in sub-section:
(a)

Must be the entire amount remunerated to effect or ensure operational, medical insurance of a Hindu undivided family member not exceeding 15,000 INR in total.


(b)

The health insurance mentioned in this section must be in accordance with a plan made in this behalf by an general insurance company established under General Insurance Business (Nationalisation) Act, 1972 (section 9) and accepted by the Central
Government.

Or

Any other insurance organization approved by the IRDA (Insurance Regulatory and Development Authority) established under IRDA Act's sub-section (1), section 3 1999.




According to the act mentioned above, it is apparent that if an individual buys medical insurance, then the premium on the same is deductible from his taxable income. The deducted health insurance premium should not go beyond 15,000 INR for individual. In case of senior citizen (60 years and above), the amount should not exceed 20,000 INR.


Example

Mr. Khan earns 8 lakhs, 10 thousand INR annually. He invests 20,000 INR on health insurance. This means an amount of about 15,000 INR will be deducted from his taxable income.




Mr. Khan invests in health insurance for himself and his parents. His parents are over 60 years of age and fit into the 'senior citizens' category. Now the yearly premium he should pay for the same insurance amounts to 50,000 INR. An amount of 35,000 INR will be deducted from his taxable income. This will help him avail health insurance tax benefits. Now, in case, Mr. Khan fits into the tax bracket of 30 per cent already, he will enjoy tax benefit of 10,815 INR.