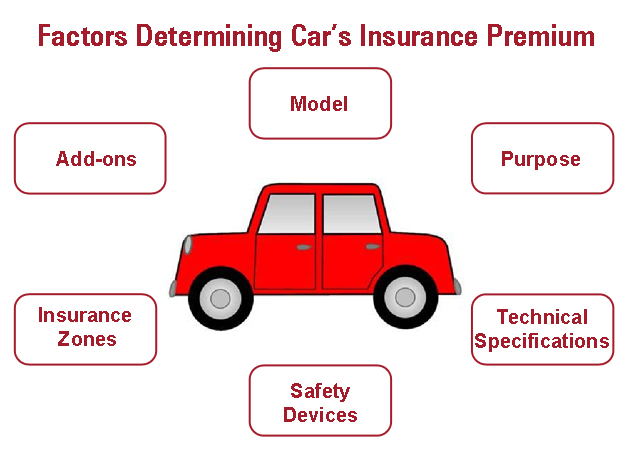 Driving is a privilege. Majority of accidents occur when people start considering driving it as a right and start being callous. In fact, a person becomes responsible for lives the moment one purchases a vehicle. That is why Third Party Liability insurance is a mandatory motor insurance policy.
Your car's insurance premium will depend on the extent of your insurance cover. However, the following factors play a crucial role in determining your cars insurance premium.
Model of the Vehicle
Insurance companies will charge you a higher premium if you are going to insure your Ferrari. Technically, the insurance premium depends on the value of your vehicle, which is termed as Insured Declare Value (IDV).

Manufacturing year and registration date of the vehicle are also taken into account. Note that, a vehicle's rare or expensive spare parts will increase its insurance premium.
Purpose of the Vehicle
Car insurance is available for personal as well as commercial vehicles. If you are using your vehicle for a commercial purpose, the insurance companies are bound to charge you a higher insurance premium.
Safety Devices
Modern cars pay a lot of attention to their passenger's safety. They come with safety features like airbags, advanced braking systems, robust locks and anti-theft devices. More safety devices in a car means less insurance premium.

One can avail around 2.5% discount on the premium amount because of your car's safety features. However, these safety devices need to fall under the list approved by Automobile Research Association of India (ARAI).
Insurance Zones
Insurance companies have specific demarcated zones to decide a car's insurance premium. These insurance zones are created according to a vehicle's vulnerability to accidents and theft. Your vehicle's insurance premium will vary depending on your registration location. Generally, this zonal bifurcation comprises of metro cities and rest of India.

Going Ahead
The insurance industry is evolving rapidly. Going ahead, it can witness additions in the factors affecting your car's insurance premium. Your credit history, distance travelled, regular car servicing from an authorized dealer, owning a house and behavioral patterns might play a key role in ascertaining your car's insurance premium in the coming future.