Swachh Bharat Abhiyan
Dec 18, 2014

How many times have you skirted around an exceptionally dirty pavement? Or wrinkled up your nose while standing too close to the railway tracks? Or perhaps, averted looking at the filth from garbage cans strewn on roads?
Surely, countless number of times. India is famous as a tourist destination; unfortunately, India is also equally famous, or shall we say infamous, for unkempt roads and unhygienic public sanitation. The Modi Government, sworn in this year, has taken up the challenge and is all set to change this image with its Swachh Bharat Abhiyan.
The Swachh Bharat Abhiyan - One Step Towards Cleanliness
Indians have been exhorted by Prime Minister Modi to take a step towards a cleaner and a better India. Swachh Bharat or Swachh Bharat Abhiyan (also known as Clean India Mission) is an all-India level campaign. It was initiated on October 2nd, 2014 at Rajpath in New Delhi, commemorating the birth anniversary of Mahatma Gandhi and Lal Bahadur Shastri.
On the day of initiation, Modi and 30 lakh government employees across the country, along with those gathered at the India Gate, took a solemn oath - the swachhtha pledge.
Through this campaign, the Government intends to call upon each and every citizen of India, including children from towns, cities or villages to keep their streets and surrounding infrastructure clean. This campaign's purpose is not to create another portfolio for the government, but to entrust Indians with a time bound vision.
So, What's the Vision?
With the motto 'neither litter nor let others litter!', Swachh Bharat Abhiyan seeks to transform India into the country that was envisaged by Mahatma Gandhi. It aims to rope in all citizens to conscientiously perform their duty as a member of the society. A clean India by the year 2019, also the 150th birth anniversary of Gandhiji, is the vision of Swachh Bharat Abhiyan.
Besides a cleaner environment, the campaign is expected to enhance public health and strengthen national economy. India holds the top rank amongst countries for the highest percentage of people who have no access to proper toilets (a staggering 600 million are Indians out of 1 billion worldwide!). The campaign's agenda also includes building adequate, accessible and clean toilets to make the country completely free from open defecation. This in turn will increase the security and privacy of women.
Unfolding the Master Plan
The government has set up a multi-level action plan to turn the Swachh Bharat Abhiyan into a 'mass movement'. Clearly, this mission hasn't been entrusted to any single Government bureaucrat; it has been put forward as a live project 'of the people, by the people and for the people'. A few initiatives and guidelines unfolded by the Abhiyan till date are:
100 Hours per Indian: 100 hours in 365 days - is the mantra shared by this Abhiyan. In short, an Indian needs to spend approximately just 4 days a year as his/her contribution to this drive.
Official Support: The Abhiyan has been officially supported by the elite forces of our country - Indian Army, BSF (Border Security Force) and Indian Air Force.
Swachh Bharat Kosh: A fund set up by the Government, under the Ministry of Finance to collect monetary contributions for the Swachh Bharat Abhiyan. The amount received would be utilised for creating better sanitation facilities (toilets, water supply and waste management).
A Tree of Good Deeds: A 'tree-like' approach is what the Swachh Bharat Abhiyan recommends. Nine popular Indians were nominated by the PM to be a part of this mission. Each of these nine would in turn nominate nine others to further the cause and create branches that would spread good deeds exponentially!
The first nine Indians to be nominated are:
Mridula Sinha
Sachin Tendulkar
Baba Ramdev
Shashi Tharoor
Anil Ambani
Kamal Hasan
Salman Khan
Priyanka Chopra
Team Tarak Mehta ka Oolta Chashma
Movers, Shakers and Newsmakers
India, so far, seems to have acknowledged the Government's resourcefulness with an enthusiastic response to the Swachh Bharat Abhiyan. Scores of children, adults and aged have taken a resolution to be a part of this historic cleanliness drive and have joined hands to give this mission a great start. Citizens from different walks of life and various parts of the country have contributed by sharing pictures, stories and their experiences on social media (hash-tag #MyCleanIndia) sites. A few of the newsmakers are: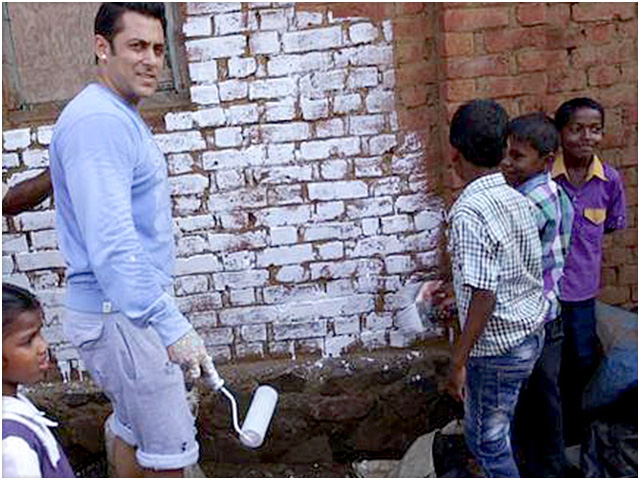 Urban Development Minister Mr. M. Venkaiah Naidu, who helped clean Vizag in the aftermath of cyclone Hudhud.
1000 students and teachers from LDCE (Ahmedabad's oldest engineering institute) who picked up brooms and cleaned their college campus. The college governing body plans to install 150 dustbins in the college.
Popular actress Priyanka Chopra, who did her bit by visiting the slum area in Versova where the film Agneepath was shot. Along with her team, she cleaned the entire area (taking more than 16 days to finish). Other film personalities like Salman Khan, Hrithik Roshan, and Amitabh Bachchan too supported the Swachh initiative by cleaning their localities.
The Delhi Health Department that issued an internal directive to all its employees, hospitals and medical colleges (under its jurisdiction) to allocate 2 hours per week for cleaning the premises.
MD and CEO of ICICI Bank, Chanda Kochar who participated in the cleanliness drive along with other ICICI employees by sweeping the area around the bank's office in Churchgate, Mumbai. She nominated actress Vidya Balan and eight other prominent women leaders from the corporate world.
The Real Deal
Creating news and posting pictures with brooms cannot be the real deal. While we may achieve cleaner streets and neighbourhoods by embracing cleanliness or instilling good practices in our children, the real problem that needs addressing is more deep-rooted than altering habitudes.
The Swachh Bharat Abhiyan has promised 'toilets before temples', in an aim to create proper sanitation for all Indians. Though the Government's efforts to start such a large-scale campaign and the extent of success till date have been applauded by many, economists and critics remain sceptical due to these concerns:
Toilet construction not the last, but the first step: An alarming number of people in Kerala, despite having access to sanitation services, still defecate in the open due to non-functional toilets. Building toilets should be not the last, but the first step; the Swachh Bharat Abhiyan lays more importance on building instead of regular maintenance, water supply or treatment facilities.
Changing minds - Not just clean campaign, but 'clean' education: Educating millions of slum dwellers and rural citizens who have made defecating in the open a routine and instilling a change of attitude is by far the primary challenge that needs to be addressed, an aspect that critics feel is lacking in the Government's initiative.
The Beginning
We all want to see a clean India; we all want to be proud of our country. However, keeping the roads clean was never only the municipality's job. It should be a community effort. The Government has only reminded the obvious to the citizens on this country. Pick up the broom, anyone?

Read More on Health Insurance Information